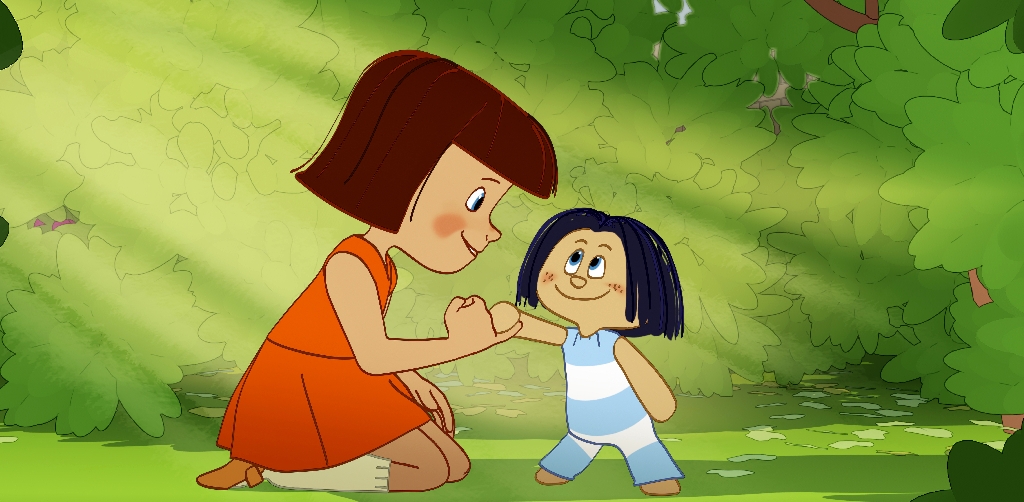 Sipsik
Reggi / Raggie
Children´s and Youth Films, Estonia / Denmark 2020, 75 Min., eston. OV, engl. st, 5 years and older
Six-year-old Ruby is enjoying the summer holidays at the side of her big brother, Mark. But when the holidays are over, Mark will go back to school and Ruby will be alone again. To comfort her, Mark makes Ruby a ragdoll, and "Raggie" becomes Ruby's new "most best" friend. She is taken by surprise when suddenly, one day, he begins to talk to her. But only Ruby can hear him, and she only has eyes for him. This leads to more and more fights with her big brother, who is annoyed by Ruby's behaviour. And Raggie becomes unhappy too, believing the constant quarrels are all his fault. So after a series of wonderful adventures, one of which even lands him on the moon, he sneaks away. Raggie ends up on the dangerous streets of the big city, where he almost gets run over … In delightful animation, "Raggie" tells the story of the beginning of a magical friendship, and its crisis.
Director Meelis Arulepp, Karsten Kiilerich
Screenplay Karsten Kiilerich, Aina Järvine nach einer Erzählung von Eno Raud
Producer Kristel Tõldsepp, Anders Mastrup
Production Company A Film Eesti OÜ, Toompuiestee 30, 10149 Tallinn, Mail: afilm@afilm.ee, Web: www.afilm.ee
World Sales LevelK ApS, Gl. Kongevej 137B, 3rd Fl., 1850 Frederiksberg C, Mail: niklas@levelk.dk, Web: www.levelk.dk
Cast Ott Sepp (Reggi), Elo Mirt Oja (Ruby), Hugo Malmsten (Mark), Hilje Murel (Mutter), Ago Anderson (Vater), Helene Vannari (Großmutter), Eliise Mööl (Vicky), Tobias Turk (Mathias)
Trailer
catalogue page PDF-Download
Screenings
No screenings are available for this film.