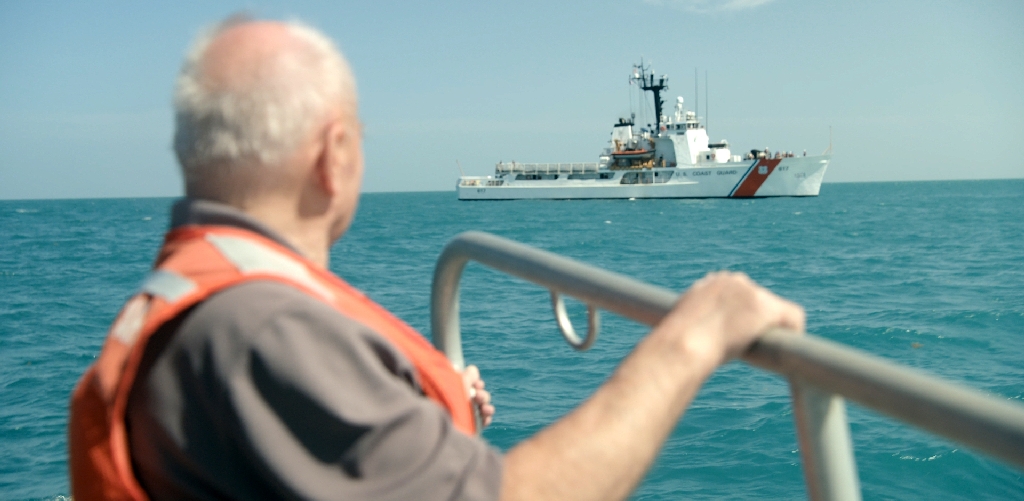 Suolis
Der Sprung / The Jump
Competition Documentaries, Lithuania / France / Latvia 2020, 85 Min., lith., engl. OV, engl. st
In 1970, a Soviet fishing vessel was anchored off the coast of America, when a Lithuanian seaman jumped from it to the deck of a US Coast Guard boat, seeking political asylum. But in a series of miscommunications, the coast guard sent him back to his mother ship … Simas Kudirka has often told the story his spontaneous attempt to flee the Soviet Union, which sent him to Siberia, but also eventually to sunny Florida. Director Giedrė Žickytė does a masterful job of listening to Kudirka and illustrating this curious Cold War tale with historical TV news stories, witness interviews, excerpts from films, and re-enactments. Her film is a portrait of a man who fell into the machinery of the Soviet justice system, and burst into the headlines in the US press. Celebrated as a hero by the Americans, he became a pawn in the game of the superpowers, although all he really sought was personal happiness.
Director Giedrė Žickytė
Screenplay Giedrė Žickytė
Producer Giedrė Žickytė, Uldis Cekulis
Production Company Moonmakers,VSI, Kauno g. 30 A-1, 03229 Vilnius, Mail: info@moonmakerts.lt
World Sales MetFilm Sales, Ealing Studios, W5 5EP London, Mail: sales@metfilm.co.uk, Web: www.metfilmsales.com
Cast Simas Kudirka, Ralph W. Eustis, Paul E. Pakos, Vytautas Urbonas, Daiva Kezys, Grazina Paegle, S. Paul Zumbakis, Henry A. Kissinger
Trailer
catalogue page PDF-Download
Screenings
No screenings are available for this film.