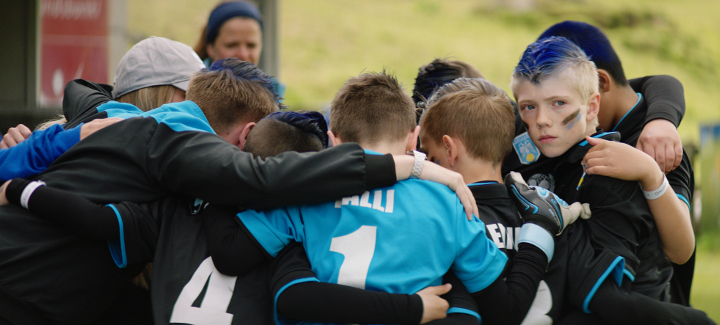 Víti í Vestmannaeyjum
Die Falken – alle für einen / The Falcons
Children´s and Youth Films, Iceland / Sweden 2018, 95 Min., ger. dubbed Version, 9 years and older
The learning process is not just for the football pitch, but also for life. Jon and his team, the Falcons, enter a youth football tournament in Vestmannaeyjar, Iceland's Western Islands. The very first match turns out to be an acid test. A bad foul is committed against one member of the team, the referee is biased, and the Falcons lose. Jon begins to see that the worst offenders have often suffered violence themselves. A football coach beats his son, and Jon and his friends set out to confront the violent father. You can't even automatically assume the police are among the good guys. "The Falcons" is framed with stirring footage of football matches. On and off the pitch, a narrative unfolds of "dreams, expectations, and great friendship", as director Bragi Thór Hinriksson says ... right up to the final penalty shoot-out in a swirl of volcanic ash.
Director Bragi Þór Hinriksson
Screenplay Gunnar Helgason, Jóhann Ævar Grímsson, Ottó Geir Borg
Producer Anna Vigdís Gísladóttir, Þórhallur Gunnarsson
Cast Lúkas Emil Johansen (Jón), Róbert Luu (Skúli), Ísey Hreiðarsdóttir (Rósa), Viktor Benóný Benediktsson (Ívar), Jóhann G. Jóhannsson (Tóti), Óli Gunnar Gunnarsson (Finnur)
Trailer
catalogue page PDF-Download
Screenings
No screenings are available for this film.