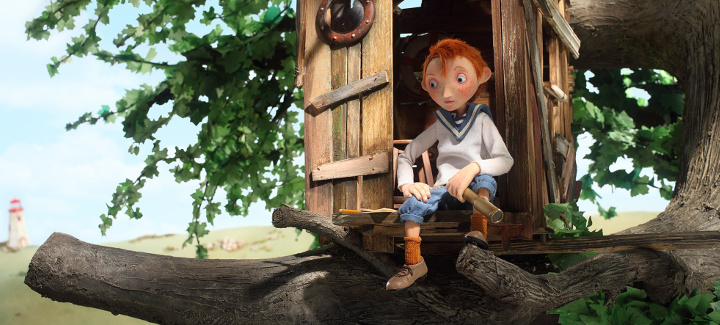 Captain Morten and the Spider Queen
Morten Lollide laeval / Käpt'n Morten und die Spinnenkönigin
Children´s and Youth Films, Estonia / Ireland / Belgium / Great Britain 2018, 78 Min., engl. version, ger. Voice Over, 6 years and older
Morten's life is not easy. His father is off on the high seas most of the time, so the ten-year-old has to live with café owner Annabelle, a strict taskmistress. When the café floods after a leak in the pipes and Morten is shrunk down to the size of an insect by an Italian cockroach, he sets out on an adventurous sail in his miniature ship across the vast swathe of water. The figures Morten encounters on his travels are oddly reminiscent of the ones he had to deal with when he was normal size, except they appear as insects – first and foremost Annabelle in the shape of a spider queen. This wonderfully visual stop motion film virtually teems with droll ideas and, with a love of detail, brings a sparkle to each and every one of the numerous minor characters.
Director Kaspar Jancis
Screenplay Kaspar Jancis
Producer Kerdi Oengo
Cast Cian O'Dowd (Morten), Brendan Gleeson (Viks), Pauline McLynn (Annabelle), Ciarán Hinds (Stinger), Michael McElhatton (Felix)
Trailer
catalogue page PDF-Download
Screenings
No screenings are available for this film.