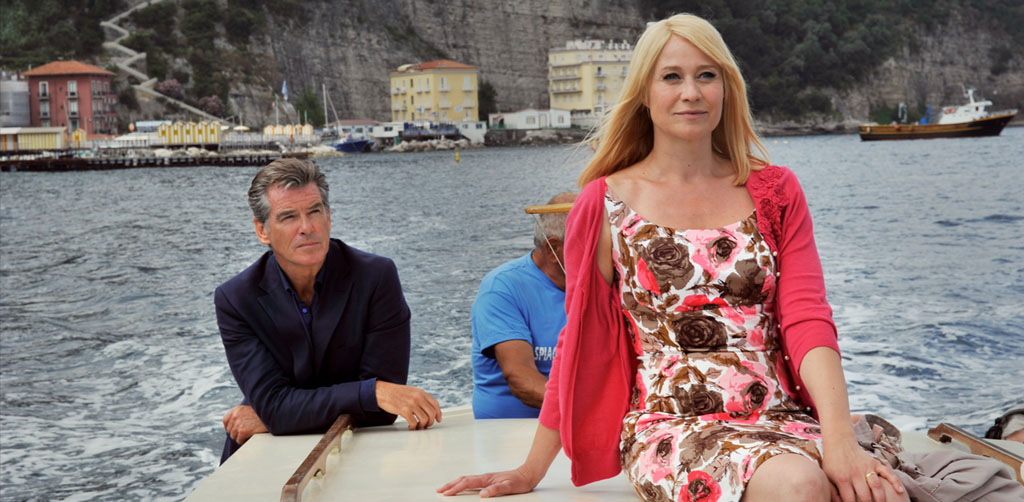 Den skaldede frisør
Love Is All You Need
Homage, Denmark / Sweden / Germany / France 2012, 112 Min., dan., engl. OV, ger. st, 0 years and older
The hairdresser Ida is relieved when her doctor tells her that she has overcome her breast cancer. But when she gets home, she catches her husband in bed with the young bookkeeper from his painting business. The rug pulled out from under her, Ida decides to go to Italy alone for her daughter's wedding. In the airport parking garage, she damages the car of a rich vegetable wholesaler. Coincidence or fate? In any case, the man is the father of the groom. Rather involuntarily, Ida and Philip travel to the south together. "The Bald Hairdresser" – the movie's original Danish title – is a romantic comedy of a slightly different kind. When Ida, who has lost all her hair during chemotherapy, takes off her wig, her grief and pain come to light. At the same time, Dyrholm's heroine retains her charming quick-wittedness and openness to all the things that life may still have in store for her.
Director Susanne Bier
Screenplay Anders Thomas Jensen
Producer Sisse Graum Jørgensen, Vibeke Windeløv
Production Company Zentropa, Filmbyen 22 , 2650 Hvidovre, Mail: receptionen@filmbyen.dk, Web: www.zentropa.dk
World Sales TrustNordisk ApS, Filmbyen 12, 2650 Hvidovre, Mail: info@trustnordisk.com, Web: www.trustnordisk.com
Distributor Prokino Filmverleih GmbH, Widenmayerstr. 38, 80538 München, Mail: info@prokino.de, Web: www.prokino.de
Cast Trine Dyrholm (Ida), Pierce Brosnan (Philip), Paprika Steen (Benedikte), Kim Bodnia (Leif), Christiane Schaumburg-Müller (Thilde), Molly Blixt Egelind (Astrid), Sebastian Jessen (Patrick), Micky Skeel Hansen (Kenneth)
Trailer
catalogue page PDF-Download
Screenings
No screenings are available for this film.