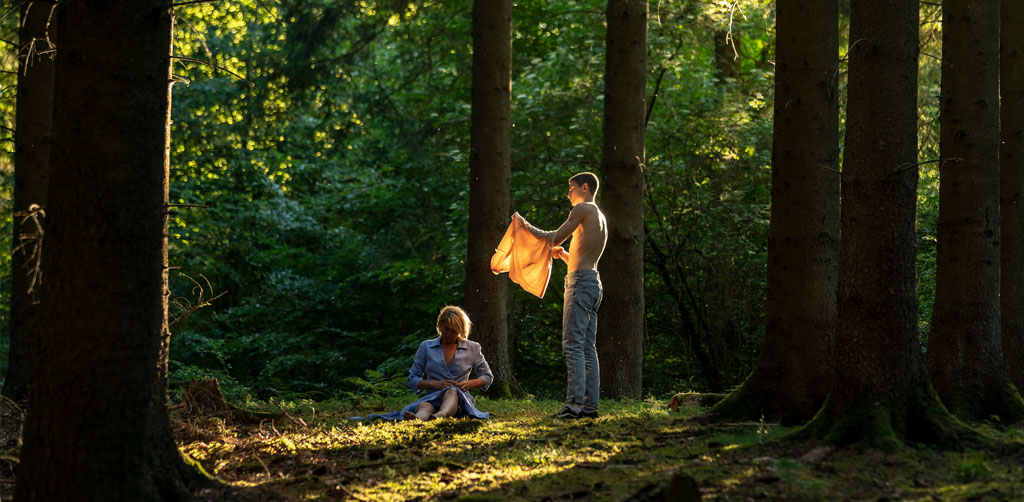 Dronningen
Queen of Hearts
Homage, Denmark / Sweden 2019, 125 Min., dan., sw. OV, engl. st
Anne and Peter are a picture-perfect couple. They live with their charming twin daughters in a modernist mansion at the edge of a forest. Both have fulfilling professions; he is a doctor, and she is a lawyer working with abused young women. Even though Anne leads the kind of life she thinks one should, a shadow seems to be hanging over her. Occasionally, when the camera lingers on her face, the otherwise sovereign forty-something woman suddenly seems like an onlooker to her own existence. More and more often, her eyes fall upon Gustav, her husband's son from a previous relationship. The 17-year-old, sporting closely cropped hair and a silver chain around his neck, recently came to live with them. Anne finds his aggressive behaviour provocative – including sexually. Trine Dyrholm succeeds in portraying a woman who is incapable of recognizing herself, and who plays with her power and crosses boundaries without taking responsibility.
Director May el-Toukhy
Screenplay Maren Louise Käehne, May el-Toukhy
Producer Caroline Blanco, René Ezra
Production Company Nordisk Film Production A/S, Mosedalvej 14, 2500 Valby, Mail: nordiskfilm@nordiskfilm.com, Web: www.nordiskfilm.com
World Sales TrustNordisk ApS, Filmbyen 12, 2650 Hvidovre, Mail: info@trustnordisk.com, Web: www.trustnordisk.com
Distributor Squareone Entertaiment GmbH & Co KG, Emil-Riedel-Str. 18, 80538 München, Mail: info@square-o-n-e.com, Web: www.squareone-entertainment.de
Festival Contact Danish Film Institute, Gothersgade 55, 1123 Kopenhagen K, Mail: dfi@dfi.dk, Web: www.dfi.dk
Cast Trine Dyrholm (Anne), Magnus Krepper (Peter), Gustav Lindh (Gustav), Liv Esmår Dannemann (Frida), Silja Esmår Dannemann (Fanny), Stine Gyldenkerne (Lina), Ella Solgaard (Sara), Preben Kristensen (Erik)
Trailer
catalogue page PDF-Download
Screenings
No screenings are available for this film.