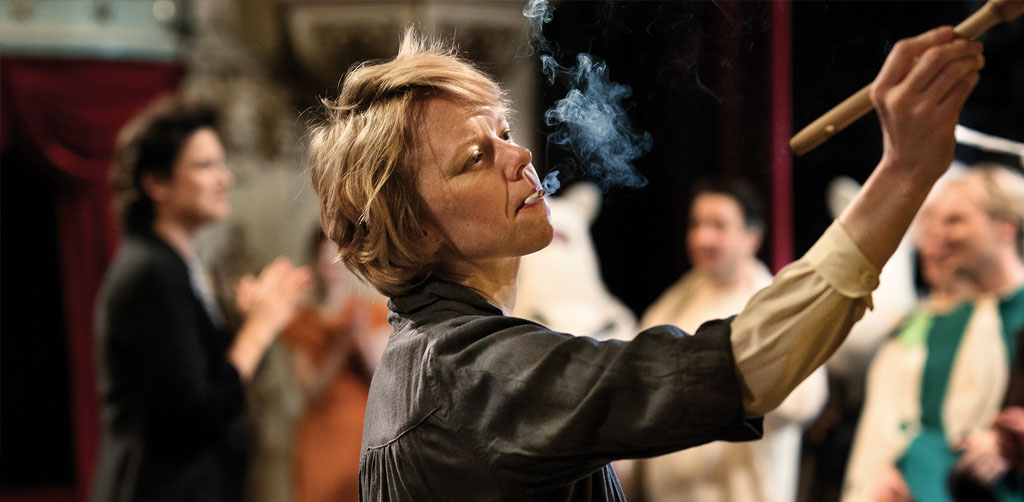 Tove
Competition Narrative Films, Finland 2020, 103 Min., sw. OV, engl./ger. st
Tove dances a wild and impetuous dance. The opening sequence sets the rhythm for this unconventional biopic. The life of Finland's most famous author and cartoonist isn't told from the cradle to the grave. Instead, we meet Tove Jansson (1914–2001) – the creator of the Moomins – as she's renting her first apartment. In post-war Helsinki, it has draughty windows and no electricity. The young woman is in the middle of an identity and creative crisis. Tove lives in an open relationship with the left-wing politician Atos Wirtanen, but feels drawn to the free-spirited theatre director Vivica Bandler. Tove would like to establish herself as a painter and political cartoonist. But what ends up making her rich and famous are her Moomin stories, the adventures of hippopotamus-like troll creatures she draws almost in passing. Alma Pöysti as Tove is mesmerizing on the screen, showing the artist as a strong-willed woman who isn't going to let her life be dictated by others, and who repeatedly invents and reinvents herself.

The Günter Grass-Haus in Lübeck will host an exhibition about Tove Jansson from March 2022.

Screenings with English subtitles on 04.11. and 05.11.
Screenings with German subtitles on 06.11. and 07.11.
Director Zaida Bergroth
Screenplay Eeva Putro
Producer Andrea Reuter, Aleksi Bardy
Production Company Helsinki-Filmi Oy, Korkeavuorenkatu 25 A 1, 00130 Helsinki, Mail: helsinkifilmi@helsinkifilmi.fi, Web: www.helsinkifilmi.fi
World Sales LevelK ApS, Gl. Kongevej 137B, 3rd Fl., 1850 Frederiksberg C, Mail: niklas@levelk.dk, Web: www.levelk.dk
Distributor Salzgeber & Co. Medien GmbH, Prinzessinenstr. 29, 10969 Berlin, Mail: info@salzgeber.de, Web: www.salzgeber.de
Cast Alma Pöysti (Tove Jansson), Krista Kosonen (Vivica Bandler), Shanti Roney (Atos Wirtanen), Joanna Haartti (Tuulikki Pietlä), Robert Enckell (Viktor Jansson), Kajsa Ernst (Signe Jansson)
Trailer
catalogue page PDF-Download
Screenings
No screenings are available for this film.