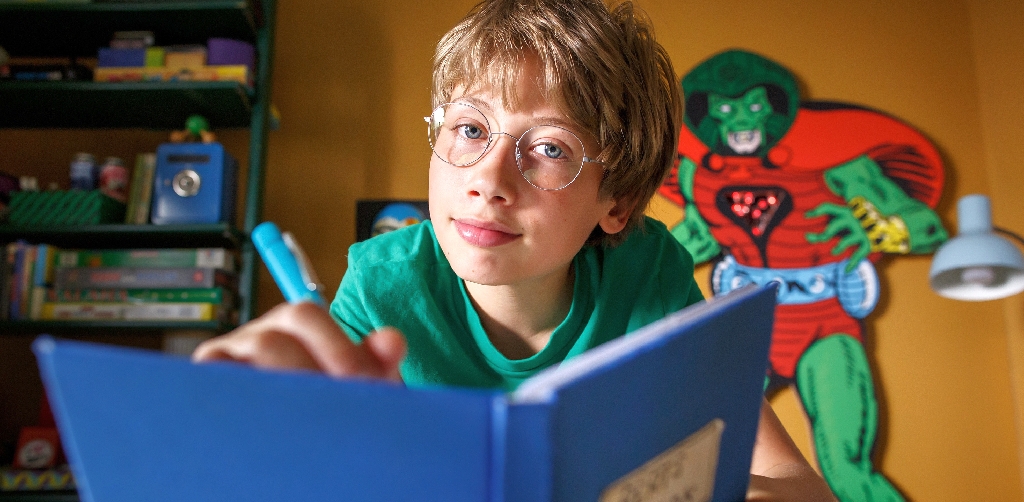 Berts dagbok
Berts Katastrophen / Bert's Diary
Children´s and Youth Films, Sweden 2020, 90 Min., sw. OV, engl. st, 10 years and older
Bert is starting 7th grade. He is skinny and wears glasses. But Bert is also awesome. That's why the only candidate for his girlfriend is the most popular girl in school – Leila, star of the basketball team and a walking advertisement for yogurt. But Leila's already in 9th grade. What can Bert do? Luckily, Leila's sister Amira is in his class. To get closer to the older sister, he makes friends with the younger one. But is that really fair? And how fair is it to read somebody else's diary? Bert certainly makes a mess of things when he does ... "Bert's Diary", a popular 1980s and '90s YA series of fictional diaries, gets an upgrade in this remake, with hip hop, superheroes, and gluten-free school days. But the age-old rule for schoolboys in love still holds true – you can't make an omelette without breaking some eggs!
Director Michael Lindgren
Screenplay Tapio Leopold, nach Motiven von Sören Olsson und Anders Jacobsson
Producer Anna Anthony, Rebecka Lafrenz
Production Company FLX , Birger Jarlsgatan 58, 11429 Stockholm, Mail: info@flx.se, Web: flx.se
World Sales REinvent StudiosKopenhagen, Mail: info@reinvent.dk, Web: www.reinvent.dk
Festival Contact Swedish Film Institute, Borgvaegen 1-5, 10525 Stockholm, Mail: registrator@sfi.se, Web: www.sfi.se
Cast Hugo Krajcik (Bert), Julia Pirzadeh (Amira), Frank Dorsin (Åke), Yussra El Abdouni (Leila), Arvid Bergelv (Lill-Erik), Frode Östlin Westman (Klimpen), Nea Nohrstedt (Thora), Helena Lindegren (Mama Madeleine)
Trailer
catalogue page PDF-Download
Screenings
No screenings are available for this film.