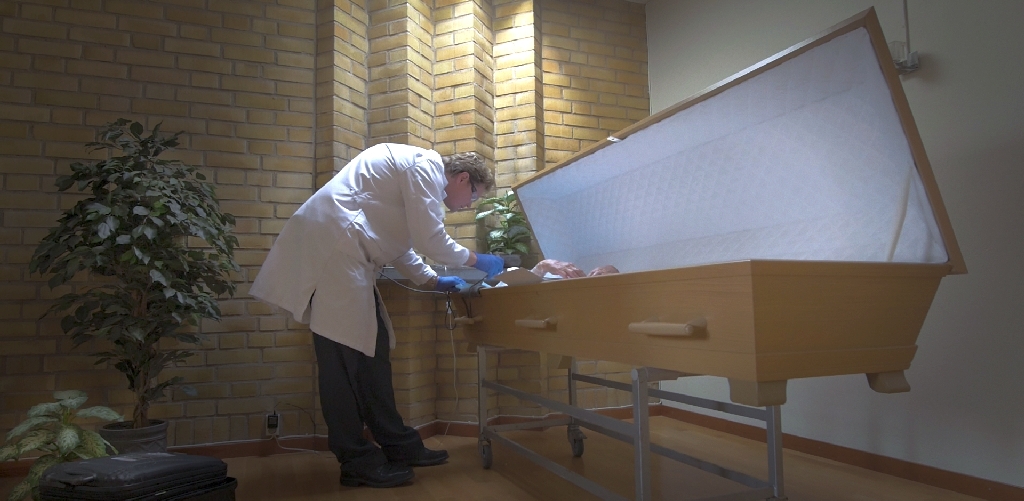 Samtidigt på jorden
Währenddessen auf Erden / Meanwhile on Earth
Competition Documentaries, Sweden / Denmark / Estonia 2020, 73 Min., sw. OV, engl. st
Jean Cocteau said that the cinema is death at work. In this film, Carl Olsson uses it to document the post-mortem realities. He follows the workaday life of people whose professions deal with death – pathologists, embalmers, crematorium staff, hearse drivers, gravediggers, undertakers. They display a range of affects, from concentrated to matter-of-fact, compassionate to distracted. Sometimes a radio plays in the background, others discuss their holiday plans. "Meanwhile on Earth" maps a specialized production process that will be applied to virtually everyone one day. Including Saga, a woman in a nursing home … The movie depicts the banality of death with long takes and static camera positions. And that very equanimity of form imparts to the dead, who remain out of view of the audience, maximum dignity.
Director Carl Olsson
Screenplay Carl Olsson
Producer Caroline Drab, Anne Köhncke, Ivo Felt
Production Company De Andra Film AB, Böste Strandväg 74, 23192 Trelleborg
World Sales Syndicado Film Sales, 121 Beaconsfield Ave., M6J 3J5 Toronto, Mail: greg@syndicado.com, Web: www.syndicado.com
Cast Jan Thunell, Saga Thunell, Lars-Arne Thogersen, Mikael Engqvist, Daniella Klow, Marcus Mattsson, Suzanne Ingvaldsson, Krister Hansson, Pia Andersson
Trailer
catalogue page PDF-Download
Screenings
No screenings are available for this film.