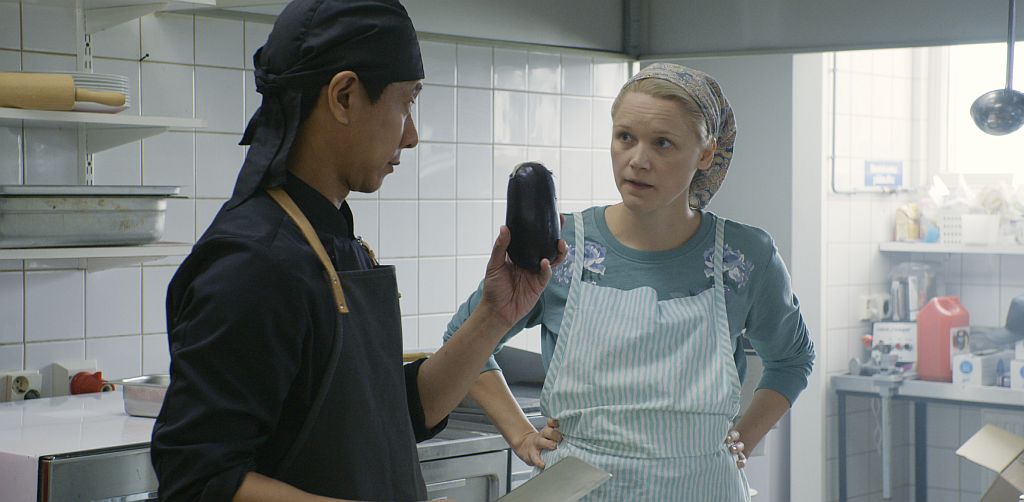 Mestari Cheng
Meister Cheng / Master Cheng
Competition Narrative Films, Finland / China / Great Britain 2019, 114 Min., engl., fin., mand. OV, engl. st
Pohjanjoki is a hamlet in the nowhere of northern Finland. Sirkka runs a restaurant there, which is hurting for business. One day, a Chinese father, Master Cheng, and his young son come to the restaurant. Although Master Cheng doesn't find the man he's come to visit, Sirkka finds in him a cook who will pamper the Chinese tourists and indulge the regulars too. And his dishes even seem to have healing properties for the ailing men in the village, so they're only too happy to welcome him into their community. But then the immigration authorities get wind of Master Cheng … Mika Kaurismäki, a world traveller in all things cinematic, surprises with this warm-hearted comedy with a fine balance of ingredients: plenty of humour, a little melancholy, romantic longing, and a cheery summer flair. They're combined to create a cinematic culinary delicacy, in which local Finnish colour comes face to face with worldly Chinese wisdom.
Director Mika Kaurismäki
Screenplay Hannu Oravisto, Mika Kaurismäki, Sami Keski-Vähälä
Producer Mika Kaurismäki, Iain Brown, Chun Yi Yueh
Production Company Marianna Films Oy, Mail: marianna.films@gmx.net, Web: www.mikakaurismaki.com
World Sales The Yellow Affair, Mail: contact@yellowaffair.com, Web: www.yellowaffair.com
Distributor MFA+ Filmdistribution GmbH, Mail: info@mfa-film.de, Web: www.mfa-film.de
Cast Chu Pak Hong (Cheng), Anna-Maija Tuokko (Sirkka), Lucas Hsuan (Nunjo), Kari Väänänen (Romppainen), Vesa-Matti Loiri (Vilppula)
Trailer
catalogue page PDF-Download
Screenings
No screenings are available for this film.