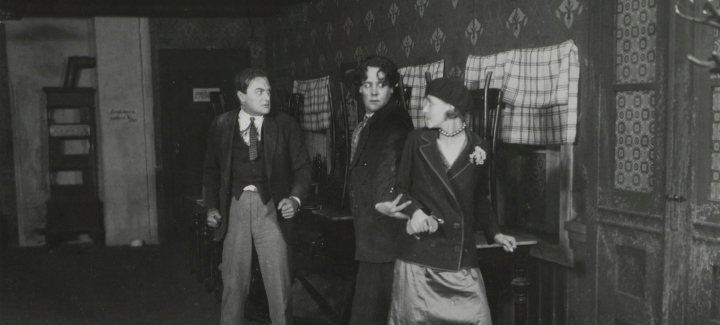 Cafe X
Café X / Café X
Retrospective, Norway 1928, 85 Min., silent, norw. it, ger. st
When Karl Kraft, a reporter for the "Dagsavisen" newspaper gets wind of weapon smuggling at Oslo's port, he smells a juicy story. Disguised as a seaman, he snoops around in the seedy Café X – and discovers that a smuggling ring operates out of its back room. The bar itself, however, is the domain of waitress Lilly, and Karl Kraft falls in love with her, not realising that she's part of the gang. "Café X" is an astonishingly modern urban film. It shows sides of Oslo that have largely been forgotten these days. We see unique images of Vika, the neighbourhood in front of City Hall, and the area around Aker Brygge, which has since been redeveloped. The film was inspired by the story of writer, sailor, adventurer and "smuggling king" Arthur Omre (1887 – 1967), who also put his boat, the "Seevogel", at the disposal of the production for location work.
Director Walter Fürst
Screenplay Walter Fürst
Producer Walter Fürst
Cast Bengt Djurberg (Karl), Tove Tellback (Lilly), Egil Hjorth-Jenssen (Enok), Nicolai Johannsen (Schmugglerkapitän), Ellen Isefiær (Journalistin), Harald Steen (Pålsen)
Trailer n.v.
catalogue page PDF-Download
Screenings
No screenings are available for this film.