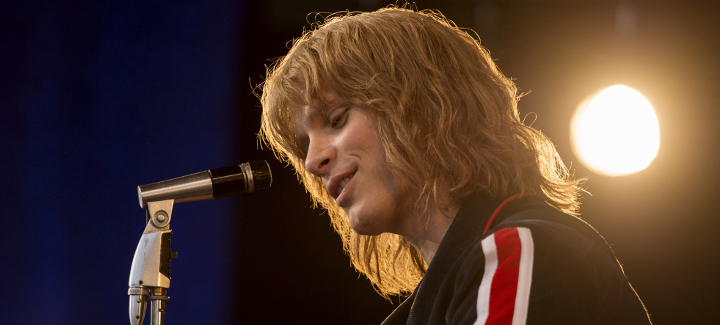 A Moon of My Own
Ted - För kärlekens skull / Ted - Alles aus Liebe
Feature Films, Sweden / Norway 2018, 120 Min., sw. OV, engl. st
In Sweden of the 1970s, the folk pop singer Ted Gärdestad achieved a meteoric rise to fame: At the tender age of 16 he released his first single, recorded and mixed to perfection for him by ABBA producers – and with Anni-Frid and Agnetha as background singers. Yet as his success grew, so too did the conflicts: Such as with Ted's brother, who felt he was being side-lined by the fame. And then there were the voices in Ted's head that unhinged him more and more, causing him to slip away from reality. The true story of the Swedish popstar Ted has now been filmed by Hannes Holm ("Behind Blue Skies") in an opulent and rousing adaptation. The singer and actor Adam Pålsson gives a dazzling performance in the main role. "A Moon of My Own" instantly becoming a major movie hit in Sweden on its release, not least because Ted Gärdestad's music still has cult status there today.
Director Hannes Holm
Screenplay Hannes Holm
Producer Lena Rehnberg, Cecilia Forsberg Becker
Cast Adam Pålsson (Ted Gärdestad), Peter Viitanen (Kenneth Gärdestad), Happy Jankell (Lotta Ramel), Maria Kulle (Margit), Johan Hedenberg (Arne), Jonas Karlsson (Stikkan Anderson)
Trailer
catalogue page PDF-Download
Screenings
No screenings are available for this film.