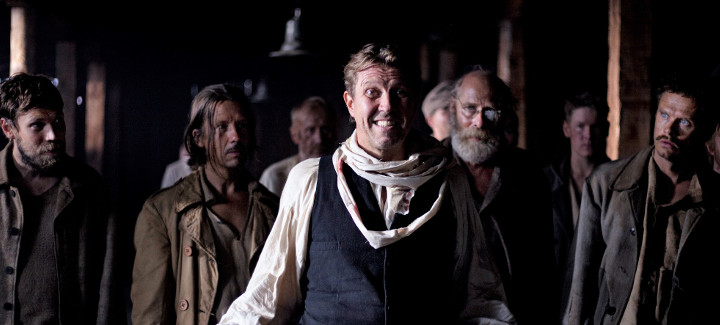 Suomen hauskin mies
Lach oder stirb / Laugh or Die
Competition Narrative Films, Finland / Sweden / Latvia 2018, 99 Min., finn., ger. OV, engl. st
In 1918, the Finnish Civil War has ended. With the help of German troops, the socialist Red Guards have secured victory, the workers' leaders have gone into hiding. One of them is Voivo Parikka. He was once celebrated as the country's funniest actor, now he's in a prison camp. The situation there is desperate – hunger is rampant, prisoners die in droves, and Parikka has been denounced as a traitor. The camp commander has a Machiavellian idea – Parikka and his company will put on a show for a German general. If they succeed in getting the high-ranking visitor to laugh, their death sentences will be commuted. But the commander hasn't counted on the subversive power of Finnish humour. Based on real events, the film displays a keen feel for the fine line between situation comedy and high tragedy.
Director Heikki Kujanpää
Screenplay Heikki Kujanpää, Mikko Reitala
Producer Klaus Heydemann
Cast Martti Suosalo (Toivo Parikka), Jani Volanen (Hjalmar Kalm), Leena Pöysti (Helen Kalm), Paavo Kinnunen (Alfred Nyborg)
Trailer https://youtu.be/5rSkgOtoAjw
catalogue page PDF-Download
Screenings
No screenings are available for this film.