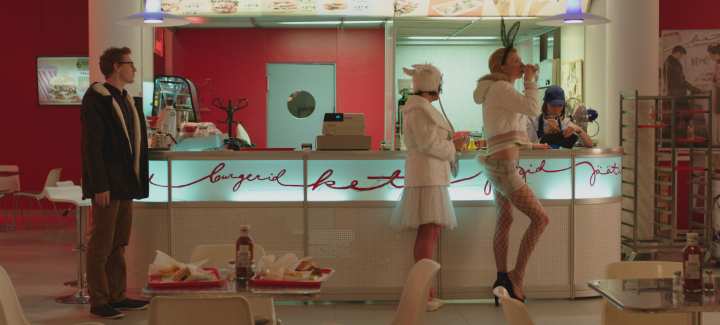 The End of the Chain
Keti lopp / Das Ende der Kette
Feature Films, Estonia / Lithuania 2017, 81 Min., estn., russ. OV, engl. st
The place is a bust. This fast food restaurant in the no-man's-land of a suburb is utterly empty; the art performance in the ball pit that was supposed to boost business turns off even the children. The young manager is usually standing alone behind the counter when she's not washing the floor. Anybody who does come is not coming for the food, but because they have nowhere else to go. So they do come – open relationships at the brink of the abyss, self-satisfied teenagers, disappointed parents, lonely lorry drivers, and a philosopher looking for meaningless work. Based on the eponymous play by Estonian writer Paavo Piik, this cinematic chamber play casts an unsparing and entertaining eye on the world of assembly line gastronomy as a place of human yearnings and failed lives. Yet, could it be possible that this day in the life of a waitress might not end in disaster?
Director Priit Pääsuke
Screenplay Paavo Piik
Producer Marianne Ostrat
Cast Maiken Schmidt (Kellnerin), Hendrik Toompere jr (junger Mann)
Trailer
catalogue page PDF-Download
Screenings
No screenings are available for this film.