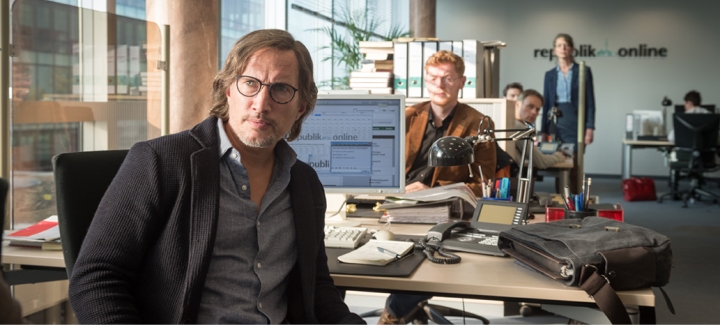 Die vierte Gewalt
The Fourth Estate
Filmforum, Germany 2016, 90 Min., germ. OV with audio description
Reporter Jan Schulte is passed information indicating that the health minister manipulated the recipient list for organ donors to move her brother up in line for a heart transplant. The story, which single parent Schulte hopes will finally snag him a staff job, turns out to be a mean falsehood. But still at issue is who would want to do that kind of damage to Minister Stade's reputation. When sensitive documents are stolen from the editorial offices of the well-regarded daily "Die Republik", the affair begins to pick up steam. Jan ropes in young, ambitious parliamentarian Katharina Pflüger to help investigate. Then he is forced to realise the whole thing was a set-up and a completely different set of forces very close to him are involved in this game of power and knowledge.
Director Brigitte Maria Bertele
Screenplay Jochen Bitzer
Cast Benno Fürmann (Jan Schulte), Franziska Weisz (Katharina Pflüger), Jördis Triebel (Britta), Oliver Masucci (Tobias Weishaupt), Nicole Mercedes Müller (Elisabeth Stade), Devid Striesow (Frank Gruber)
catalogue page PDF-Download
Screenings
No screenings are available for this film.