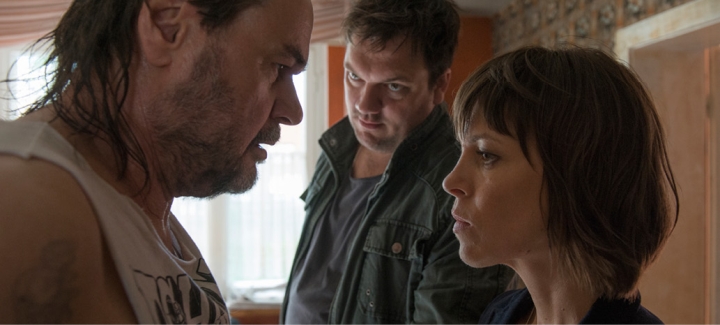 Alarm 110 – Fear Justifies the Means
Polizeiruf 110 – Angst heiligt die Mittel / Polizeiruf 110 – Angst heiligt die Mittel
Filmforum, Germany 2016, 88 Min., germ. OV with audio description
A homeless woman has been raped and assaulted. Her body is found on a bench in the village of Bassow near Rostock, right next to where two recently released sex offenders live. The villagers are already disdainful of Kukulies and Buschke, and everything seems to point right to them as the perpetrators. But Katrin König, the profiler from the state bureau of investigation isn't convinced. However, since her upcoming transfer to Berlin has become public knowledge, she is in a difficult position with her colleagues – especially Bukow, who is tortured by the fact that his father is in a coma. Then Buschke hangs himself and Kukulies disappears without a trace. In the course of their investigations, Bukow and König turn up more and more inconsistencies in the statements made by the villagers, who are concealing a dark secret.
Director Christian von Castelberg
Screenplay Susanne Schneider
Cast Anneke Kim Sarnau (Katrin König), Charly Hübner (Alexander Bukow), Uwe Preuss (Henning Röder), Markus John (Martin Kukulies), Maciej Salomon (Peter Buschke)
catalogue page PDF-Download
Screenings
No screenings are available for this film.