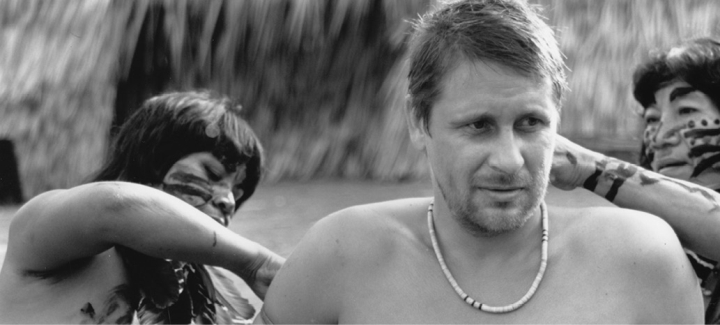 Amazon
Amazon / Hölle am Amazonas
Retrospective, USA / Finland / Brazil / France 1990, 96 Min., engl., port., finn. OV, engl. st
Kari works in a bank in Helsinki. When his wife dies, he flees to Brazil to start a new life with his two children. After being robbed in Rio de Janeiro, they set off in an old car into ever more far-flung provinces of the country. Kari joins up with an American pilot, Dan, and the two plan to mine diamonds or gold in the jungle. But the American wants to use bulldozers, making the enterprise environmentally unsound. After an accident, Kari is dependent on the help of the local tribe. "Amazon" was an early call for a global environmental consciousness. In 1990, Mika Kaurismäki said "I wanted to depict a western man confronted by nature. I wanted to show a more extensive portrayal of the jungle and prove that it's far more than just the dangerous, menacing place that traditional adventure films depict".
Director Mika Kaurismäki
Screenplay Richard Reitinger, Mika Kaurismäki
Cast Kari Väänänen (Kari), Robert Davi (Dan), Rae Dawn Chong (Paola)
catalogue page PDF-Download
Screenings
No screenings are available for this film.