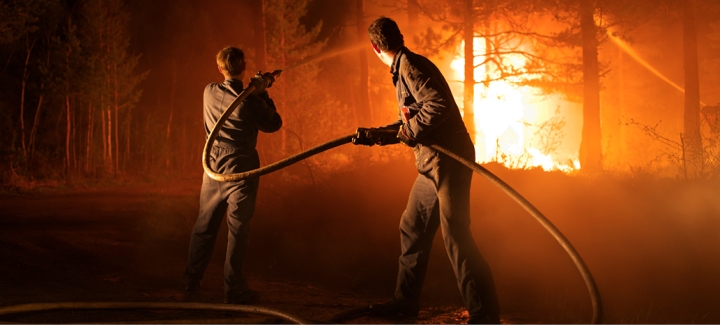 Pyromaniac
Pyromanen / Pyromaniac - Bevor ich verbrenne
Feature Films, Norway / Sweden / Denmark / Germany 2016, 96 Min., norweg. OV, engl. st
In 1981 Norway, 19-year-old Dag lives with his parents on their farm. His father Ingemann is the head of the volunteer fire department and took Dag along as a child on fire runs. So far, there have been very few call-outs. But then fires begin to break out regularly. First it's just in the forest, then abandoned huts and, soon, occupied houses. When the signs start to point to somebody from the area starting the fires, the mood in the village changes. Cracks also begin to appear in the facade of Dag's family. Brilliantly cast and wonderfully photographed, this impressive crime and psychological drama skilfully gives the audience a feel for the mood changes among a close community, and draws the audience deeper and deeper into the story. The film is based on the 2010 novel "Before I Burn" by Gaute Heivoll, which revolved around a real case of serial arson in Norway.
Director Erik Skjoldbjærg
Screenplay Bjørn Olaf Johannessen
Cast Trond Hjort Nilsen (Dag), Per Frisch (Ingeman), Liv Bernhoft Osa (Alma), Henrik Rafaelsen (Johansen), Agnes Kittelsen (Elsa), Gerdi Schjelderup (Johanna), Oddgeir Tune (Alfred)
Trailer
catalogue page PDF-Download
Screenings
No screenings are available for this film.