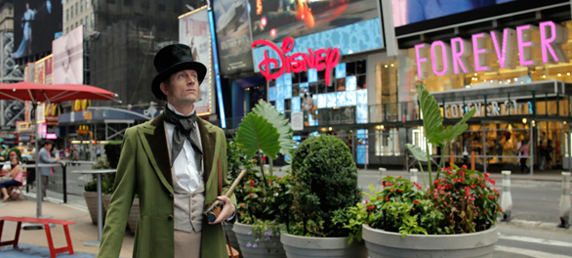 Kierkegaard – Dangerous Thoughts
Kierkegaard - Gefährliche Gedanken / Kierkegaard - Gefährliche Gedanken
Filmforum, Germany / Denmark 2013, 60 Min.
More than 150 years ago, Kierkegaard was already interested in issues that increasingly move people today: doubts, fear, loss of love and identity. Kierkegaard's thoughts inspired Kafka, Sartre and Camus. In this film, the philosopher fantasizes his departure from the provincial narrow-mindedness of Copenhagen and appears in present-day metropoles: Paris, Berlin and New York. To his surprise, he discovers that his "dangerous thoughts" of the existential freedom the individual have been perverted into a mass ideology. Kierkegaard's greatest source of happiness is his engagement to Regine Olsen. But his fear of making her unhappy moves him to break the engagement. His world implodes as she marries another man. He writes his gigantic body of philosophical work over a very short period of time in self-chosen isolation.
Director Wilfried Hauke
Screenplay Wilfried Hauke
Cast Søren Bang Jensen (Kierkegaard), Mia Jexen (Regine Olsen), Preben Kristensen (Michael Kierkegaard). Experten/Experts: Siri Hustvedt, Joakim Garff, Pia Søltoft. Erzähler/Narrator: Axel Milberg
catalogue page PDF-Download
Screenings
No screenings are available for this film.