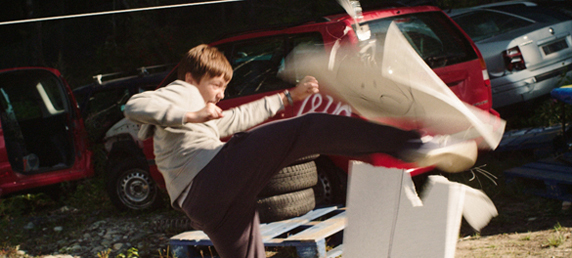 The Tough Guys
De tøffeste gutta / Die harten Jungs
Children´s and Youth Films, Norway 2013, 74 Min., 9 years and older
Modulf is eleven years old, and he is a superhero - at least he thinks he is. This is why he regularly takes on the class bullies Frank and Jørgen: he regularly lets them bully and beat him. Better him than one of the weaker ones, says Modulf, not admitting to himself that he is the weakest of all the pupils - and is not helping anyone with his forbearance. Until Lise joins the class. Lise can do aikido and she teaches Modulf how to defend himself. However, when Lise becomes a new target for mobbing, Modulf believes he can only help her by distancing himself from his new friend. But at the last moment he sees through the class pecking order, and he can protest against it, even without his "superpowers" ...
Director Christian Lo
Screenplay Nick Hegreberg, Christian Lo, Arild Tryggestad
Cast Sondre Blakstad Henriksen (Modulf), Regine Stokkevåg Eide (Lise), Lasse Sortland (Frank), Martin Røsjorde Lindstad (Jørgen), Anders Baasmo Christiansen (Lehrer)
Trailer
catalogue page PDF-Download
Screenings
No screenings are available for this film.