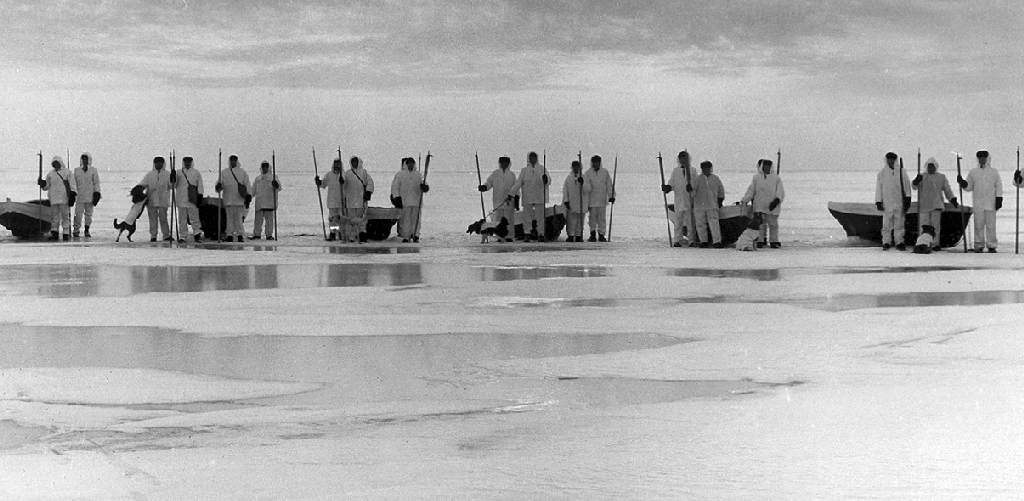 Karge meri
Das raue Meer / The Smacking Sea
Retrospective, Estonia 1981, 64 Min., eston. OF, engl. st
Life on a remote island off the coast of Estonia is no less harsh than the sea that surrounds it. As young Katrina Leet finds out when the taciturn fisherman and seal hunter Matt Ruhve brings her here from the mainland as his bride. In this coastal village, even love tastes of salt. Further episodes depict the fate of this unmatched couple, telling the story of an archaic lifestyle full of hard work and thwarted hopes, and illustrating an ongoing battle with the rigours of the merciless natural world … "The Smacking Sea" is based on a 1938 story by August Gailit (1891-1960), who went into exile in Sweden in 1944, where he remained until his death. With this densely atmospheric 'seascape', director Arvo Kruusement adds to his series of cinematic adaptations of classics of Estonian literature.
Director Arvo Kruusement
Screenplay Arvo Kruusement, nach dem Roman von August Gailit
Festival Contact Estonian Film Institute - Eesti Filmi Instituut, Uus 3, 10111 Tallinn, Mail: film@filmi.ee, Web: www.filmi.ee
Cast Merle Talvik (Katrina Leet), Tõnu Kark (Matt Ruhve), Mikk Mikiver (Siimen Tara), Ita Ever (Toora Jookus), Raine Loo (Epp Loona), Rein Aren (Kapitän Jaak Niilus), Aarne Üksküla (Pastor Lund)
catalogue page PDF-Download
Screenings
No screenings are available for this film.