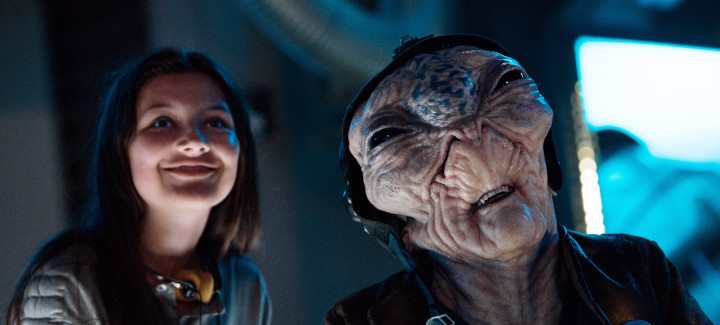 Alone in Space
Ensamma i Rymden / Allein im All
Children´s and Youth Films, Sweden 2018, 84 Min., sw. OV, engl. st, ger. Voice Over, 12 years and older
"The Svea XVI space shuttle was supposed to carry thousands of people safely from the ruins of Earth to the planet Vial. But things didn't go as planned, and Gladys ends up alone on board with her younger brother. She kills time with acrobatics in the air lock; meanwhile Keaton misses his mother, who has disappeared in space. Their routine is disrupted when an extraterrestrial appears who calls himself Vojajer and even speaks Swedish. With an enormous space ship, whose dark corridors are lit only by flickering screens, an unreliable onboard computer, and uninvited guests, director Ted Kjellsson has succeeded in taking a classic sci-fi motif and changing it up so that the entire family can share in the excitement. The aliens are slimy, but not all of them are particularly threatening – and some are even pretty good dancers."
Director Ted Kjellsson
Screenplay Ted Kjellsson, Henrik Ståhl
Producer Anna Knochenhauer, Sonja Hermele
Cast Ella Rae Rappaport (Gladys), Dante Fleischanderl (Keaton), Henrik Ståhl (Vojajer)
catalogue page PDF-Download
Screenings
No screenings are available for this film.