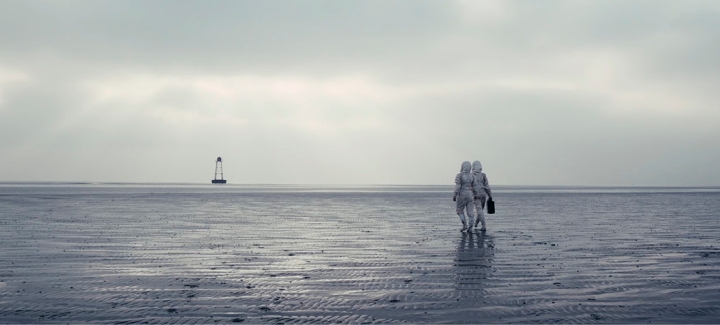 Wir sind die Flut
We are the Tide
Filmforum, Germany 2016, 84 Min., germ. OV, engl. st
The sea along the coast of Windholm disappeared 15 years ago. Just like that. The cause of the anomaly has never been clarified. Ambitious physics student Micha has a bold theory and hopes to figure out the phenomenon. But after years of preliminary work, his plan fails due to the rigidly old-style university system – he is not allowed to continue with his project. Micha and his colleague Jana secretly set out to test his hypothesis. In the restricted military area, the young researchers meet the piteous remains of the village community. Since the day the sea disappeared, it seems that all the village children have drowned; at least that's what the villagers claim. But their bodies have never been found. Amid the dilapidated houses and deserted streets, Micha and Jana become deeper and deeper enmeshed in the secrets of this forgotten place.
Director Sebastian Hilger
Screenplay Nadine Gottmann
Cast Max Mauff (Micha), Lana Cooper (Jana), Gro Swantje Kohlhof (Hanna), Roland Koch (Karl), Max Herbrechter (Prof. Feuerstein), Waldemar Hooge (Daniel), Mikke Emil Rasch (Matti)
Website http://wirsinddieflut.de
Trailer
catalogue page PDF-Download
Screenings
No screenings are available for this film.