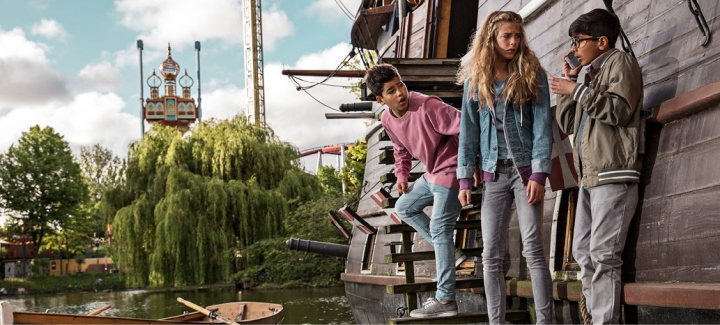 Iqbal & den hemmelige opskrift
Iqbal und die Geheimrezeptur / Iqbal Farooq and the Secret Recipe
Children´s and Youth Films, Denmark 2015, 90 Min., German commentary, 10 years and older
Iqbal lives in Copenhagen with his family and manages to constantly aggravate any and all authority figures. The bomb that he cobbles together in his school's chem lab draws the attention of two shady real estate developers. They want to use the explosive mix to blow up a theme park in downtown Copenhagen, so they can build an enormous parking lot in its place. The two men follow Iqbal even when he goes on holiday with the family. They kidnap his six-year-old brother Dundua. Iqbal has to rescue Dundua and he needs the whole family's help – which means reconciling with his father. This action-packed film is based on the book series of the same name by Manu Sareen, a Danish writer of Indian descent who was, until 2015, the first male minister of equality in Denmark, where his books are bestsellers.
Director Tilde Harkamp
Screenplay Renée Toft Simonsen
Cast Hircano Soares (Iqbal), Liv Leman Brandorf (Sille), Arien Alexander Takiar (Tariq), Runi Lewerissa (Vater), Sara Masoudi (Mutter), Dar Salim (Onkel Rafiq), Moowgliie Duissara (Dindua), Rasmus Bjerg (Eselmann)
Trailer
catalogue page PDF-Download
Screenings
No screenings are available for this film.