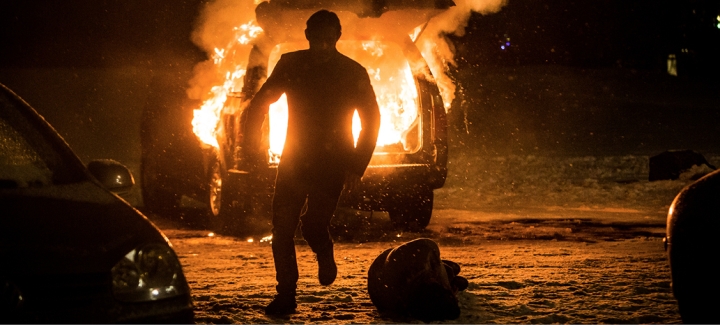 The Oath
Eidurinn / Der Eid
Feature Films, Iceland / Great Britain / Germany 2016, 103 Min., iceland. OV, engl. st
Nothing is really missing from Finnur's life. He's a distinguished surgeon who lives with his wife and daughter in a tastefully decorated modern building. After hours, he trains for the triathlon. The only thing that worries him is his grown daughter from a previous relationship. Anna dropped out of school and has recently taken up with Óttar, who is apparently involved in the drug trade. She descends deeper and deeper into substance addiction. She calls in the middle of the night pleading for help, only to return to Óttar shortly afterwards. Because Anna is not a minor, the police and doctors don't seem to be able to help. So Finnur takes it upon himself to try to get Óttar out of his daughter's life. He's determined to go to extremes, if necessary, to accomplish that – and in doing so, puts his family in great danger. A suspense-packed and realistic character study.
Director Baltasar Kormákur
Screenplay Ólafur Egilsson, Baltasar Kormákur
Cast Baltasar Kormákur (Finnur), Hera Hilmarsdóttir (Anna), Gísli Örn Gardarsson (Óttar)
Trailer
catalogue page PDF-Download
Screenings
No screenings are available for this film.