Regie/ Director: Torun Lian

Drehbuch/ Screenplay: Per Schreiner

Kamera/ Camera: Svein Krøvel

Schnitt/ Editing: Sophie Hesselberg

Musik/ Music: Nils P. Molvær

Rollen/ Cast: Teodor Gautier Teigen, Øyvind Kensland

Produktion/ Production: Martin Bråthen

Adresse/ Address: Norsk filminstitutt, Dronningens gate 16, P. O. Box 482 Sentrum, N-0105 Oslo, Tel. +47-22474500, Fax +47-22474597, e-mail torils@nfi.no

Internet/ Internet:

Norwegen Norway

1997, 6 Min., 35 mm, Farbe colour, englische Untertitel English subtitles, deutsch eingesprochen German commentary, ab 8 Jahren 8 years or older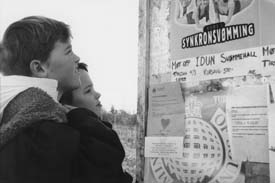 Regisseurin Torun Lian, Jahrgang 1956, hat Bücher veröffentlicht, außerdem für das Fernsehen Serien und Fernsehspiele geschrieben sowie für mehrere norwegische Filme - Kurz- und Spielfilme - die Drehbücher. Für ihre erste Regiearbeit, den Kurzfilm "Det finnes noen som mindre enn Anna" (1990), wurde sie bereits ausgezeichnet.

Director Torun Lian, born in 1956, has published books and written series and TV movies for Norwegian television as well as screenplays for short and feature films. She won her first awards for her debut "There is Someone Even Smaller than Anna" (1990).