Regie/ Director: Christer Engberg

Drehbuch/ Screenplay: Christer Engberg, John O Ohlsson

Kamera/ Camera: John O Ohlsson

Schnitt/ Editing : Håkan Karlsson

Musik Music : Christer Engberg

Rollen/ Cast: Matthias Berthelson (Jim), Fredrik Gunnarson (Conny), Lotta Högberg (Nadja), Patrik Johansson (Peijo), Ann-Sofie Rase (Stina)

Produktion/ Production: ohn O Ohlsson, Giraff Film AB, Kulturskolan Rosteriet, Filmpool Nord AB, AB Svensk Filmindustri

Adresse/ Address: Ann-Kristin Westerberg, AB Svensk Filmindustri, Dialoggata 6/Kungens Kurva, S-12783 Stockholm, Tel. +46-8-6803500, Fax +46-8-7104422, e-mail ann-kristin.westerberg@sf.se

1997, 96 Min., 35 mm, Farbe/ Colour, englische Untertitel/ English subtitles, deutsch eingesprochen/ German commentary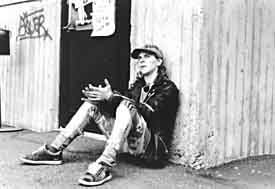 Inhalt/ Summary

Jim, 17 Jahre alt, kommt eigentlich aus einer großen Stadt. Dort ist er durch ein paar Diebstähle und Kleinkriminalität aufgefallen. Ergebnis: Er wird in eine Kunst-Sonderschule hoch im Norden gesteckt, wo alle nur einen einzigen Traum haben: einfach abhauen. Doch die Dinge ändern sich im Laufe der Zeit. Ein komischer und tragischer Film über den Kampf um Anerkennung.

Jim, 17 years old, comes from a big city. There he was involved in a few thefts and petty crimes. As a result he was put in a special art school for delinquent youths in the north where they all have only one dream: to run away. But things change in the course of time. A comical and tragic film about the struggle for acceptance.


Regisseur Christer Engberg hat 18 Jahre lang an einer Kunst-Sonderschule im Norden Schwedens gearbeitet, die auch Thema seines Films ist. Alle Schauspieler sind ehemalige Schüler Engbergs und haben selbst stark an den Dialogen mitgearbeitet, weil der Regisseur wollte, daß sie ihre eigene Sprache benutzen.

Director Christer Engberg has worked in a special art school for delinquents in northern Sweden for 18 years, which is the topic of his film. All the actors are former students of Engbergís and they have largely contributed to the dialogue, because the director wanted them to use their own manner of speaking.